Is it time To Say Tara to VAR?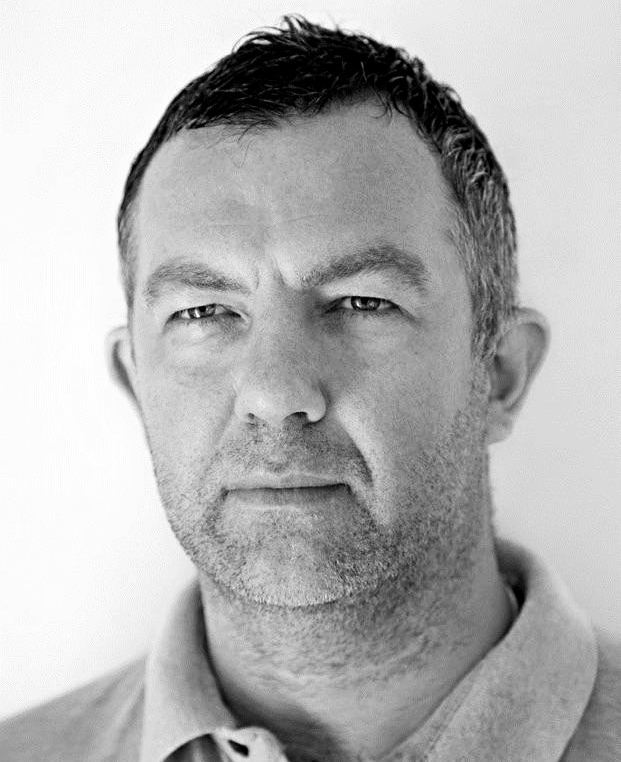 Darren Young
@fanexperienceco
Darren is a director at The Fan  Experience Company.
He has a background in working on customer service excellence projects in the UK and Europe, and an MBA that included studying in the United States. 
A UEFA Mentor and Fan Experience Company consultant, Darren works with clubs across Europe to improve the match-day experience and increase attendance through engagement with fans.
I think the time has come, even if just for a little while.
As I support a team that are mid-table in League Two so some might ask why I even care? The closest I'll get to VAR ruining a Saturday afternoon is if I wanted to go for a walk in Stockley Park and couldn't because there was bloody big van blocking the car park entrance. But it is hurting too many others to just ignore it.
I had seen it up close  – VAR not the big van – and personal before, at games in Europe I was working at, or when England played in the World Cup or Euros. But they were fleeting glimpses, a once-every-two-year thing that did exactly what VAR says on the tin: it helped referees in righting clear and obvious wrongs.
It wasn't perfect (that foul on Bukayo Saka!) but it was OK and needed.
I'd also experienced the infamous Hand of God / Little Rascal (delete depending on whether you were on the side of Diego Maradona or Bobby Robson) in 1986. Now that was a clear and obvious error that did need to be addressed. A World Cup cycle can be four years of blood, sweat and tears so to have your dreams blown away by outright cheating (which it was) felt unjust. There were others, maybe not quite so blatant, over the years but when Frank Lampard's 'goal' in 2010 was ruled out, it was clear and obvious that some form of solution was required.
Goal line technology was the – almost – perfect fix to the latter problem. Cameras perched in various places could track the ball like they do in cricket and tennis. It removed doubt. It also probably lulled us into thinking that video was the answer to everything. Of course, it was also too expensive to have in every ground but at the elite level, at least it would remove those mistakes that left fans frustrated and in an increasingly money-obsessed game, their clubs' future being at the mercy of a bloke who might have to travel to the Far East a couple of days before just to make ends meet.
I'd also seen a game in Rotterdam (2018 I think) when a Feyenoord player was rightly red-carded for an off-the-ball incident that few saw in real time. It was subtle, efficient and came to the correct conclusion that even the most biased home team supporter couldn't argue with. When this is adopted in the Premier League (they waited a year, remember?), I thought, it will be a great addition.
But that hasn't been the case. Arguably, the errors overseen by VAR have been worse than the ones we failed to spot in the pre-VAR era. It's become not just too much of a talking point but the only talking point. When Brentford's Thomas Frank was interviewed after this weekend's match at Nottingham Forest he said 'can't we just talk about the football?'
I'd watched the game in question on TV. Now, I'd long held the belief that the in-stadium experience had been damaged by the introduction of VAR. The reasons are well documented. The over-zealous way the VAR got involved in every little aspect of decision making, lack of visibility for fans, the way it was still wide open to interpretation and my own favourite: when the man (it's usually a man) in the van tried to find any way to disallow a goal, sometimes for the tiniest infringement or indiscretion. In a game where some laws used to give the attacking team the 'benefit of the doubt', we'd gone full circle to a situation where a third-party was sitting miles away (in full kit) looking for a possible reason to strike a goal – the whole point of the bleedin' game – off.
The exception was when it came to offside. That, they told us, was not up for debate because you are either offside or you aren't. This was 100% scientific and if a player is a mile or a toenail offside, they are still offside. Aren't they? No buts.
Well, except there is a but because also this weekend, they managed to get offside completely wrong too. So much so that an apology from Howard Webb (who was hired as Chief VAR Apologist only last season) is no longer going to be enough. Liverpool – the team who's perfectly good goal was not allowed – are taking it further and requesting evidence in the form of the recorded dialogue – I think it will contain quite a few 'oh shits'- as well as suggesting they might want to take it even further, while Jurgen Klopp has gone so far as suggesting the game should be replayed although imagine the floodgates that might open (although I am looking forward to England v Argentina 1986 Part II).
Football is holding its breath, but you can kind of sort of see their argument. How many times does it need to happen before we begin to question the point of it all? Jamie Carragher says it's VARs lowest moment and to be fair, Liverpool's stance is becoming understandable. Most people would probably agree (well, except for Gary Neville, which is weird because I thought he liked Liverpool).
The debate is set to roll on. But, not for the first time, the damage that has been and continues to be done underestimates the impact it has on a rather important group. The fans.
As I said, I was already certain that their in-stadia experience has been eroded. I can't think of too many things that annoys a fan more than a) celebrating wildly for three minutes then discovering it's not a goal or b) not celebrating at all only to be told that your team has scored after a four-minute delay after someone has tried in vain to detect an earlier offside in the build-up. Sure, there can still be fun to be had if the eventual decision goes your team's way, but on the whole, the raw emotion and passion is being gradually replaced by a game-within-a-game played out on the big screen. And what works fairly well in stop-start games like tennis, rugby and cricket does not work anywhere near as well in a game what relies on ebb and flow rather than stop and show.
Talking of screens, I presumed that the powers that be were banking on the at-home / in-bar experience being better and thus outweighing the issues for those poor idiots who buy an actual ticket. Those poor buggers see and feel all the delays, whereas at least the TV viewer is able to fill the gaps by viewing the replays from every possible angle while awaiting a decision.
But no. After trying to watch the Forest v Brentford game, I concluded that the experience for fans is equally bad whether they are in the stadium, propping up a bar or sitting on their sofa. They still get the delays, they still don't know if a goal is a goal or not and the big decisions are still wrong. To add to it, the one thing the armchair benefits from that the stadium fan doesn't have – commentary – is chock-full of references to VAR. So every decision is second-guessed, then chewed over and discussed and if there has been a contentious decision that weekend, every single incident is compared to it, making most of it virtually unlistenable.
As not a single weekend goes by without a major problem, a Webb-ology, a club feeling majorly discriminated against or Match of the Day declaring that the end of the game is nigh, then surely the time has come to hit the pause button and rethink?
The obvious answer is a reset. I'd advocate adopting a light-touch approach where we only hear from a VAR if there is an earth-shattering reason to: 'hey there, I think the little guy only scored because he punched the ball over the six-foot goalkeeper'.
But we can't go on as it is.
Change in football – as in life – is inevitable, but we don't have to blindly keep going if something is simply not working or fit for purpose. In its current incarnation, in the Premier League, VAR is spoiling the beautiful game and even if the administrators, clubs, players, pundits, broadcasters and sponsors are happy to continue to put up with this farce, let's at least do it for the fans.
Want to read more by The Fan Experience Company?
See our White Paper about the balance between safety and the match day experience?
The paper 'It's Just Like Watching Pret' can be viewed by clicking here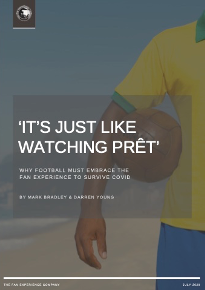 © The Fan Experience Company 2020